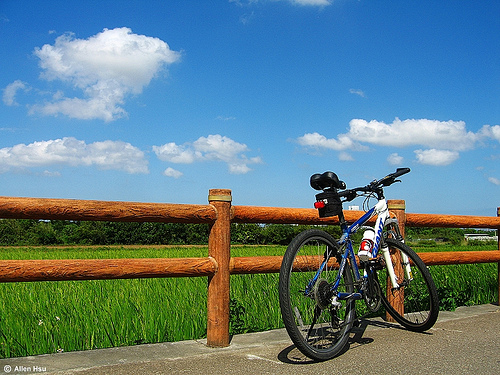 Sunday is a beautiful day with beautiful mood. I figure it's a great time to go cycling in the Xuanwu Lake park. The sun is a bit severe, but I'm not afraid of the sun radiation at all. I got sun cream and we designed a great road line where the streets is all covered with green trees, so no sunshine at all.
The road line is generally go like this: The Shitoucheng park – The West Beijing Road- The Chengxian streets – Xuanwu Park – Back home
God, I feel so happy to live in a city where the big green trees is everywhere, or else, where would we cycling lovers go to with the sunshine so fierce out there. In the park, we take cycling bike by turns, since we only have one bike, but we have another electrical bike

  On the road somewhere, we stopped for buying a hammock to lay between the trees to have a cheerful rest, watching dogs and old guys fishing. So nice.
By the way, I love the feeling taht I am swaging in my hammock  like a swing. Life is so beaufiful with a mountain bike.