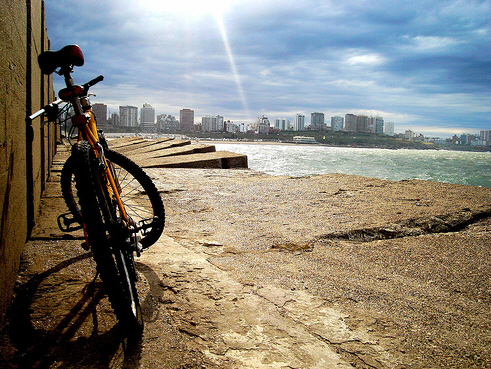 Following is what a foreign cycling lover who are in Shanghai, China and exploring the cities beauty and wonders.
Cycling in Chinese cities is a heady mixture of excitement and danger, until you're told to get off your bike and push it, which is what one of the traffic police instructed me to do as I neared Shanghai's centre. I'd read that the city plans to ban cycling in the future – the bicycle being equated with a proletarian past and a symbol that Shanghai wants to leave behind. I think the authorities will have a hard job, but with cycle lanes being removed from the major roads Shanghai was not as cycle friendly as I would have liked. And when other people told me stories of having their bikes stolen I decided it was best to explore on foot.
As a city becomes so large, it's a bit hard to know where the boundaries was. Shanghai was somewhat like this. Although I'd never originally planned to visit Shanghai I'm glad that I have. Walking onto the bund at night, with its majestic colonial buildings and space age skyscrapers lit up across the Huangpu river is a sight which takes some beating. But for a city with all is past and present wealth there is also the opposite extreme, and it wasn't long before street hawkers and beggars started to wear on my senses. Shanghai is also the first place in China where at times I feel the foreigner is charged more.
Nevertheless, it is a city that should be seen – the decaying remnants of British and French architecture, which appear largely forgotten by the reality of noisy and bustling tree-lined side streets had me wandering for hours without boredom. I could happily spend longer exploring, but with 30 or so days to cover the remaining 2000 plus kilometres to Hong Kong I'm anxious to keep cycling. Shanghai is also a place that can thin one's wallet rather quickly without some serious restraint, and I have a lot of travelling still planned ahead.