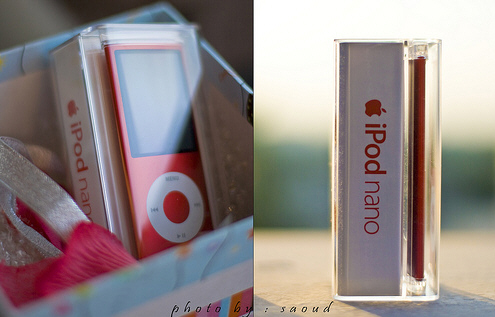 I bought my iPod nano 4th generation last saturday for an impulse. I have an apple mini 3 years ago, and its battery is not working, since I got this apple complex, so I choose it again for a price that I could accept. "Apple touch" have more functions that is more suitable for western users, not very practical in China, where you can not even have an itune store account for download anything.
Now, after two days playing with it, I got my own thoughts about it for anyone who want to learn something about this new edition of Apple nano:
Love it for:
1. Its industrial design, no best words could descibe its excellence in this point.
2. Its material said to be recyclable and green, so a nice choice for green life followers.
3. So thin and so portable to bring it with you anywhere, anytime.
4. Simple design with powerful functions, I quite like the cover flow function, and each song going with amazing album covers which could easily got from the itune account.Free and very fun doing this.
5. Just a little shake around, it could change a song for you, surprise

6. Genuis funcition, more practical for those with thousands of songs in the computer but too lazy to got them all listened. It may pick songs according to your flavor.
Even though in China, one can not register for an itune account, but I manage to get one, there is always solution.
Hate it for:
Earphone quality and Music quality just being so-so, can't please to those picky ears, and those who are real music geeks. But to me, maybe change a earphone would be better enough.
Above it all, apple nano is incomplete but unique. With apple, you may feel very happy playing with music, not just listening to them.